The water is so clear you can see the fish coming for your lure….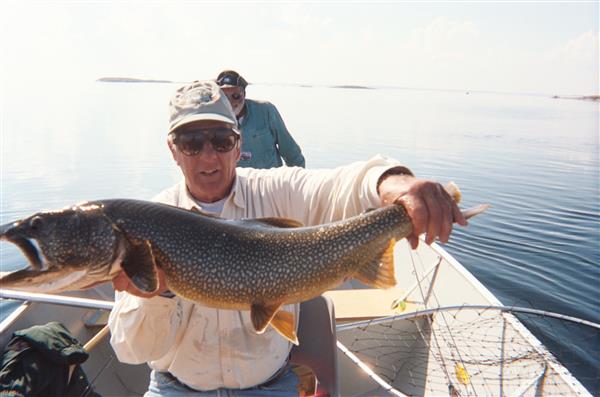 Everyone has a big fish tale to tell you, but we'll bet few can rival what you'll find at Aylmer Lake Lodge.
Slamming big trout every cast in seemingly endless supply … or your dry fly rushing down a set of rapids to a huge, waiting arctic grayling. If you're ready to fish with the big ones, you MUST experience Aylmer Lake!
Monsters of the deep.  Lake trout with Arctic Char DNA from the ice age….
LODGE RECORD: 58 LBS
LODGE AVERAGE: 15 – 25 LBS
How we catch them:  There are two ways that we use to catch lake trout at Aylmer, one is trolling and the second one is jigging.   We recommend trolling as being number one for productivity. There is also great opportunity to bring home the lake trout with fly fishing, as the water is cold the fish are at the top of the water column. Some tried and true techniques we use include long lining, casting and vertical jigging. Favourite baits include Eppinger Husky Sr, Little Cleo's, T-60's, and Mepp's in-line spinners.
Lake trout prefer the colder water temperatures found here in the summer months. The cold water has lots of oxygen, making a preferred habitat for forage fish like cisco (whitefish). Hint: lake trout like cisco! You'll fish shoals, and reefs where the structure coincides with the bottom Once you have located your preferred structure we keep an eye on our graphs, looking for pinch points and areas that will have congregated bait. This is a great time to try vertical jigging if you would like to change it up.
Summer trolling baits include Williams Wobbler Spoons, Eppinger Husky Sr, J-Plugs, and floating body baits such as Husky Jerks and Jointed Rapala's. Your jigging lures should include tubes, swimbaits, blade baits, lipless crank baits, and Swedish pimple jigging spoons.
Feisty and unforgiving – these river charmers put some more fun in fishing.
LODGE RECORD: 25 inches
AVERAGE: 22 inches
The Arctic grayling is a freshwater fish in the salmon family with five subspecies, and fishing for them is always exciting. They have disappeared from many areas in North America but remain a classic catch in the North. They have a sail-like dorsal fin and are found at the mouth of cold northern rivers – and we've got 14 stunning rivers pouring into the lakes we fish. Great fun to catch and release, they are active & aggressive fish and will jump clear out of the water multiple times. Some love the way a winged Arctic Grayling will attack a well-presented dry fly. Others are fascinated by its rarity and appearance. Either way, this fish provides ample action for a great light tackle experience.
How we catch them: The key to success at Aylmer Lake is relatively straightforward. For anglers with spinning gear, a light or ultralight rod spooled with six to eight pound test is great, but you have to be prepared to lose the occasional lure. You will even lose the occasional grayling, when one of the lake trout that share the same waters decides it likes the grayling you're offering. Small spinners, including those by Mepps or Panther Martin are favourite lures, though small spoons and jigs have taken more than their fare share of grayling over the years.
We recommend spinner blades in gold, yellow and black or using a casting bubble above a fly. This allows the non-fly caster to enjoy the same visual thrill of a fish smashing a bait on the surface that fly anglers live for. For the fly fisherman, the ideal rig is a four- or five-weight rod, though some anglers have used six- and even seven-weight gear when northern winds are blowing. We prefer to fish dry flies whenever possible, and grayling are generally amenable to a well-presented caddis or mayfly imitation in sizes 10 – 14, particularly in stream habitats. Favourites include the elk hair caddis, Goddard caddis, humpies in red or black, Tom Thumbs, stimulators, and Adams. The black gnat, though technically not a dry fly in the truest sense, should not be ignored. In our lakes, or when they're not rising in flowing water, we'll often turn to nymphs such as the gold-ribbed hare's ear, Prince's, or San Juan worm, or even a small wooly bugger or zonker streamer pattern.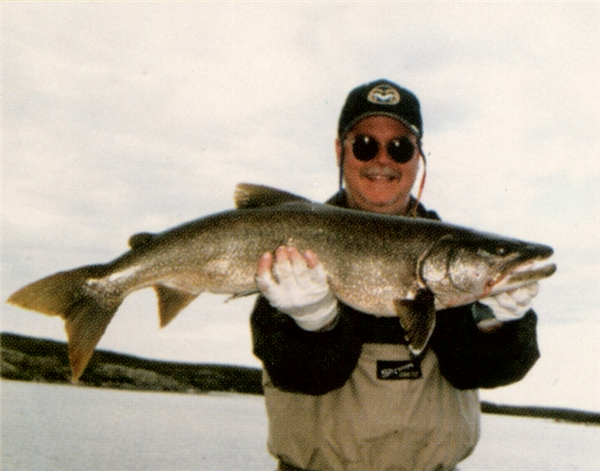 Preserving for years to come…
To ensure the success of this lake for many years to come, a "catch and release" policy for huge fish was implemented when the lodge opened, and we have chosen to continue this policy. Of course, we do make a point of enjoying our "daily swimmers" along with our home-cooked dinners each evening. If you want to immortalize your catch, we are happy to arrange a taxidermist.
This may be the only place where your eyes are bigger than your imagination!
The exhilaration of catching "The Big One" has to be seen to be realized.  Have a look at the faces who've seen the Holy Grail of fishing!