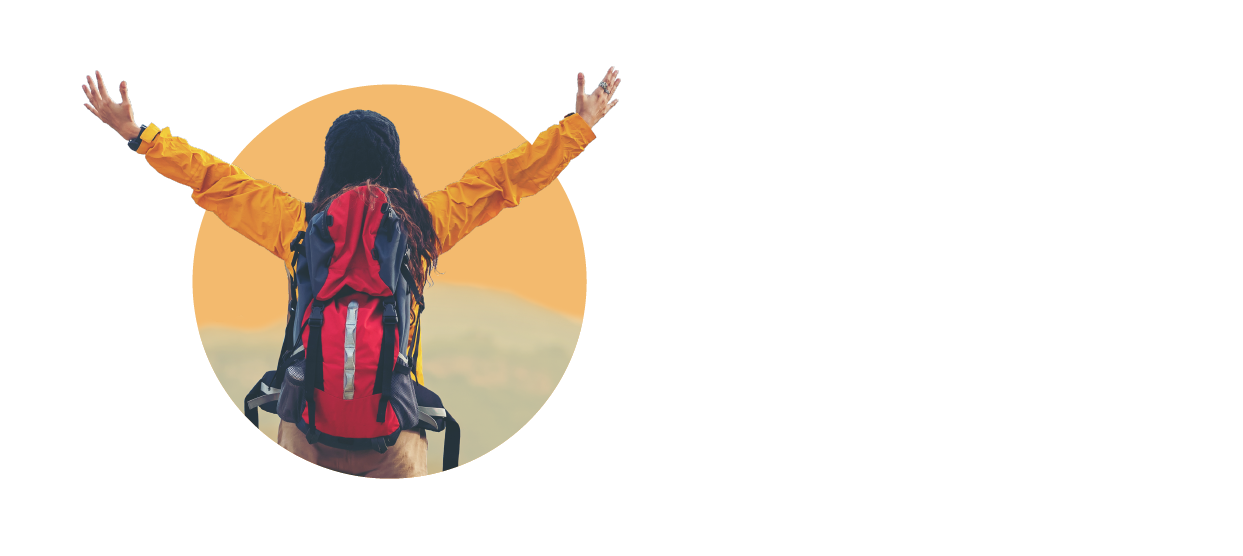 We know you won't pick just any company when it comes to your trips. You need to know the unvarnished truth  how was the guide, how did your adventure go, how was the food, were the accommodations comfortable, and any other information that will give you the security you need to make the right choice. Here are the comments from our guests.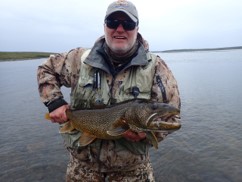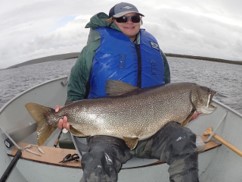 My son Brenan and I booked a trip with Aylmer lake lodge in June 2020 for July 2021, but unfortunately when July 2021 came around there was a travel ban still in place for Canada. Kevin and Patti honored our booking until the following year for July 2022 at no extra cost. Our trip had a clear, precise itinerary from the start.
Patti and Kevin were awesome hosts, even prior to the trip taking place. Several of my coworkers and friends and family that had fishing hunting trips booked over Covid pandemic had nothing but headaches.
Aylmer Lake Lodge is one the remotest places in the world, but compared to other more famous resorts in the NWT, it has had zero fishing pressure. And because it IS so remote, there are no settlements competing for fish – it is literally untouched wilderness. The Lake trout fishing was unbelievable, way past my expectations for me and my son. We both caught our personal best Lake trout on a fly rod. We caught literally dozens of lake trout in the 10-20 Lbs class, at least a dozen between 20-30 pound class, and 5 over 30 pounds in 4 days. Anyone who wants to fly fish for lake trout, this is a must trip. My arm was sore for a month afterwards.
The lodge is very comfortable with great vistas of the area. The food was excellent – my son still brags about Patti's lake trout speciality recipes. Breakfasts were hardy and great before heading out for long day fishing. Kevin and Patti run a extremely remote lodge like a family lodge experience, like what I had as a kid in Northern Minnesota before corporations took over the resort business.
I highly recommend Aylmer Lake Lodge.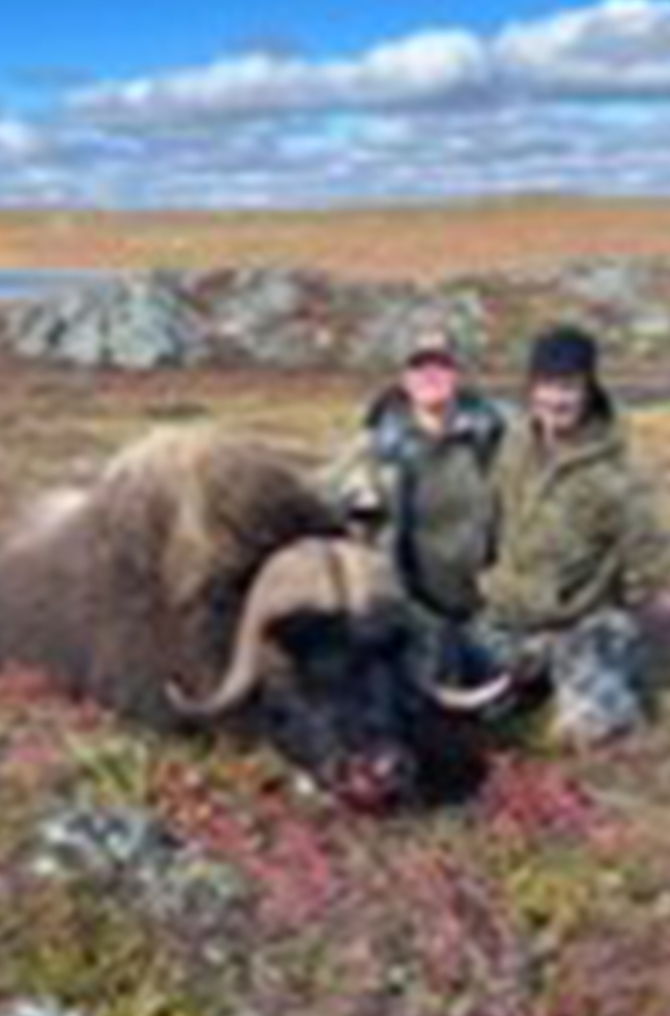 Thank you Kevin and Patti and family for a memory of a lifetime. It's been a gift that no amount of money would ever be enough to trade. Sharing your dream of sharing the love of hunting is a passion. Kevin and Patti – your hard work ethic is a gift in itself to your children. Thank you for all you did for us guests.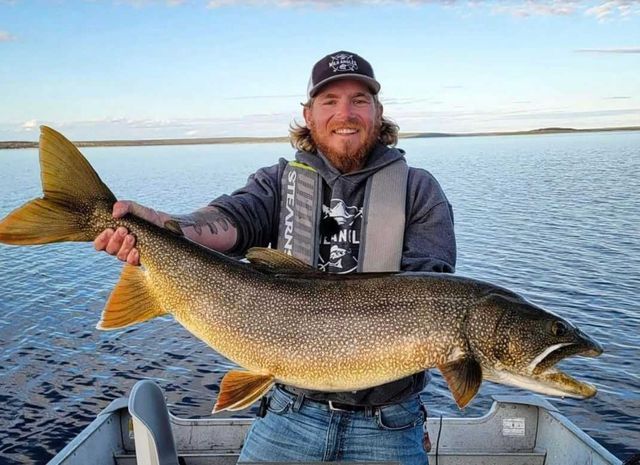 My son and I took a trip up to Aylmer Lake Lodge this summer. If you are looking for a remote fly in fishing experience in one of the most beautiful places on Earth and fish pristine waters for huge lake trout and arctic grayling, then I highly recommend this lodge for a trip of a lifetime.
The reviews are from the guest book at the Lodge. If you would like to submit your own review please contact us.
"Great fishing.  Beautiful landscape.  Everyone worked hard to make our trip a success.  We all had a wonderful time – especially learning a lot about the great Northwest.  An experience I will never forget."
BENNY B.
Great time and beautiful place!  Great fishing sitting on top of the world.  Wonderful people and hosts!
CHRIS G.
Thanks for a great trip and all the fellowship – the fishing was great!  Good luck with the place and I hope to come back another day.
CHRIS M.
Kevin – thanks for everything.  Trip of a lifetime.  Enjoyed the camaraderie.  Beautiful and wild country.  Great food, guides and HUGE fish.  Good luck to you and your gang.
RANDY L.
I have fished for lakers in northern Manitoba, but never in NWT.  The fishing and accommodations were phenomenal.  Never thought I would have caught lakers from a spoon.  Food at Lodge was top notch.  Can't wait to come back!
RON M.
Thanks Kevin and crew.  Best accommodations I've had up in the tundra.  Great fishing with the opportunity to catch a monster.  A 50lb fish will come out of here.  Caught my biggest trout.  Hope thing work out for you guys and you make it work.
JIM P.
Awesome!  Awesome!  Awesome!  The McNeils have hit a grand slam!  Will be back!
JIMMY B.
Had a great time!  Hospitality was awesome.  Nate was a great guide.  Hope to make it back.
Landon D.
Fantastic country – enjoy.  It is like the beginning of time and hopefully will be forever.  Your mind will really take you for a ride.  Fishing is great – lots of fish and good size.  This was more of a vacation than a fishing trip.  Best fishing guide I ever had.  These people really know how to run a hunting and fishing camp.
TOM W.
In 19 years of guiding lake trout across major bodies of water around northern Canada, I have not experienced more consistent and spectacular fishing.  This place is an untapped resource which should boast amazing catches for generations to come.  The Lodge and professional staff are exemplary!
DAVE M.
"Wow!  What a fishery!  Compliments to chef Frances as well.  Thank you for an awesome experience.  You and your team did a great job hosting our group and are the reason for such an incredible time here.  I hope to return."
JD R.
Good food.  Great weather.  Kevin's group was very accommodating.  Had a great time!
JEFF N.
Great water.  Our group had some tough weather conditions so fishing was on and off. My feeling is that Aylmer Lake has great potential and many 50 pound plus fish will be caught.  Look forward to coming back – great staff!
TIM D.
A great job by Kevin and his staff.  Comfortable, clean warm and dry cabins.  Beautiful pristine natural beauty!  The great fishing is huge bonus!  I had a great week of adventure and restful sleeping and am feeling restored and ready for the next adventure.
TOM N.
Thanks for a great adventure in the far north!  Great once in a lifetime experience with so many beautiful fish.  Good luck in the future.  Great food from the chef.  Thanks Kevin for your passion in history.  Thanks to Nathan the guide – was so great.  Take Care!
MARC M.
Kevin – Thank you and your team for an incredible fishing experience in the Arctic!  My fisr visit to such a pristine area of the world – a true gem.  Fishing is AMAZING and the scenery is indescribable.  Thanks for your hospitality.
MARK H.
This is one of my favorite places to fish in the world.  Up to this point my biggest lake trout has been 13 pounds.  Not only did I break my personal record this trip – I DESTROYED IT with a big fish weighing 31 pounds.  I was lucky enough to capture my biggest catches on film!
MAXIME B.
First trip to NWT.  You made the good times better.  You and your crew were great.  They work hard.  Now I can tell everyone I know I met the "legend"!
WJ S.