Headed on a fishing trip to Aylmer Lake Lodge soon?  This is awesome-we have trip planning and packing lists that can help you prepare for your arctic trip.
When your headed Into our lodge, these documents were put together with you in mind.
WHAT TO PACK
Aylmer Lake Lodge is located in remote bush barrenlands of the Northwest Territories Canada. You can purchase certain items in the Yellowknife capital of the Northwest Territories. Tobacco products, film, batteries and fishing gear should be purchased in advanced of your trip in Yellowknife. Use Yellowknife as your last supply stop. For your convenience fishing licenses can be purchased in camp the day you arrive. We recommend traveling with water-repellant luggage with soft sides. Always have your rain gear near or at the top of your bags for easy access.  Keep your camera in your hands as the photography opportunities on the float plane flight in spectacular.
Weather on the barrenlands is very unpredictable. No matter when you visit, be prepared for highs in the 70's and lows in the 40s. July and August is typically the warmest month, with cooler temperatures in June in September. Always be prepared for rain and wind. No guides goes anywhere without good rain gear in their dry bag.
Camp clothing should be casual and comfortable. Remember to keep all important medications separate from your luggage. Because we are exposed to the elements even around camp, warmth and dryness should be considered in all clothing choices. We recommend layering your clothing for warmth and versatility.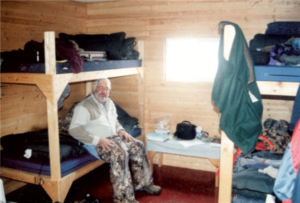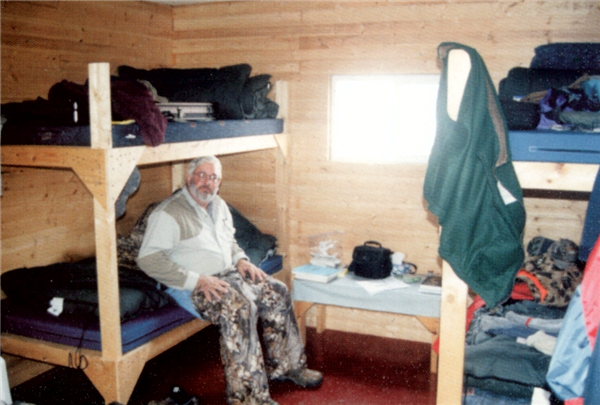 IN-CAMP GEAR
ITEM
 Jeans
 Long-sleeved shirts  Sweater
 Socks
 Underwear
 Casual Shoes
 Waterproof footwear  Light weight jacket
 Rain coat and pants
 Shoes for wet and dry weather
 Toiletries
 Shower sandals
 Battery powered reading light  Books or games
 Fly tying vise and tools on site for you to use
ON THE WATER
ITEM
 Fleece tops and bottoms to wear under waders
 Polypropylene long underwear
 Sweater
 Vest or warm jacket to wear under
rain gear and/or waders
 Warm socks – several pairs
 Warm, waterproof and lucky fishing
hat
 Warm fishing gloves
 Rainwear – Gore-Tex and other
breathable shells are best
 Wading Boots – felt soles
 Polarized sunglasses
 Camera
 Extra card for camera and batteries
 Sun block
 Bug repellant
 Head net
 Dry bag for carrying your gear on boat