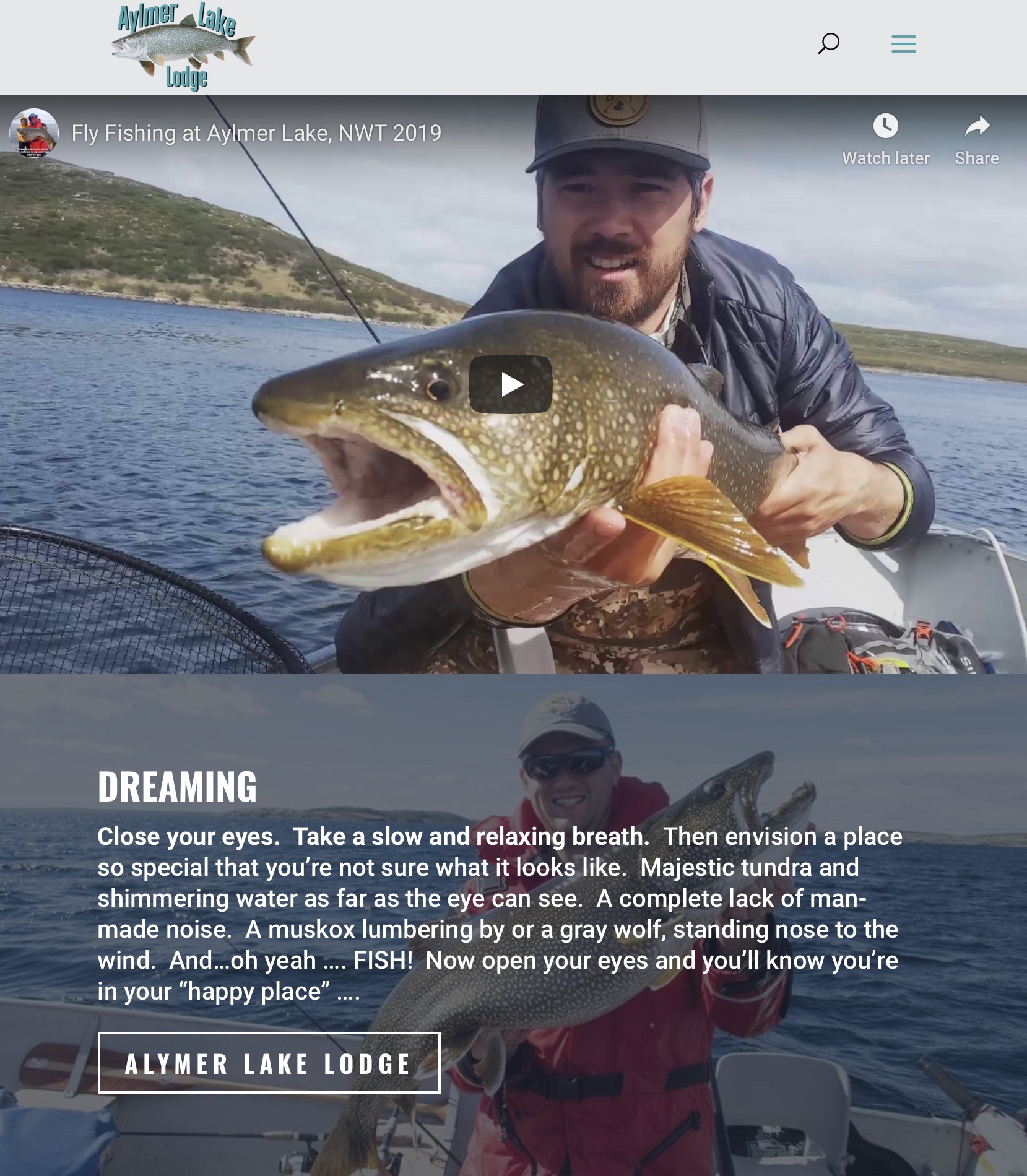 Aylmer Lake Lodge Travel Tips
There are simply times when you step off the beaten path, you hear the call of adventure and you decide that heading out to explore the unexplored. 
Are you looking for that family vacation that is outside the box from your regular trips? Where you can experience somewhere unique, different from the norm, a place that has been seen by less than 1% of the Canadian population.

Now, if this appeals to you we would highly recommend the Northwest Territories Barren-lands. With the opportunity to see terrain that is unique, provides stunning landscapes, opportunities to see wildlife in their natural settings, and to explore where the creator of Boy Scouts of America explored in 1907. Then Aylmer Lake Lodge is the place! It is an Arctic barrenlands location that brings you into the remote barren lands, every person who has arrived has stated, you tried to describe this place to us but you can't fully describe this, the pictures and videos do not do it justice, it's beyond anything we expected, you just have to come and experience it. Honestly, it's unbelievable, it is rare, unique, and so incredibly beautiful, it is this gift of an opportunity to experience a place that's pristine. It is a business, friends or family trip unlike any others!
Imagine watching a unpolluted clear sky that in August bursts into  a show of Northern Lights. Then understand that we are past the ring of fire and up here you have to look South to see the northern lights. Imagine sharing this with fellow business people, family and friends, now that's a unique experience. The folk lore surrounding the lights brings thousands of people to the North simply to view the lights. In contrast in a July, there is 24-hours of daylight, experience the long days and the beautiful coloured hues of the evening horizon of the Midnight Sun with endless daylight. A place that shows changes in the flora and fauna in days not weeks. The plants are growing exponentially and the wildlife are born and mature rapidly due to the short summers.
We Are Very Accessible! Yes, More Than You Had Imagined
There are daily flights to Yellowknife from Ottawa, Calgary, Edmonton and Vancouver international airports, getting here is very simple and easy. There are dozens of family-friendly hotels, BB's and lots of activities to take in while in Yellowknife. Yellowknife, is the capital city of NWT and is the gateway to the barren lands, it is a unique city that offers lots of attractions. From here you board a float plane in the Center of Old Town on Greater Slave Lake and head off to our lodge a 2 hour float plane ride into the uninhabited wilderness. You land on Aylmer Lake at our lodge where staff greet and welcome you to our piece of paradise.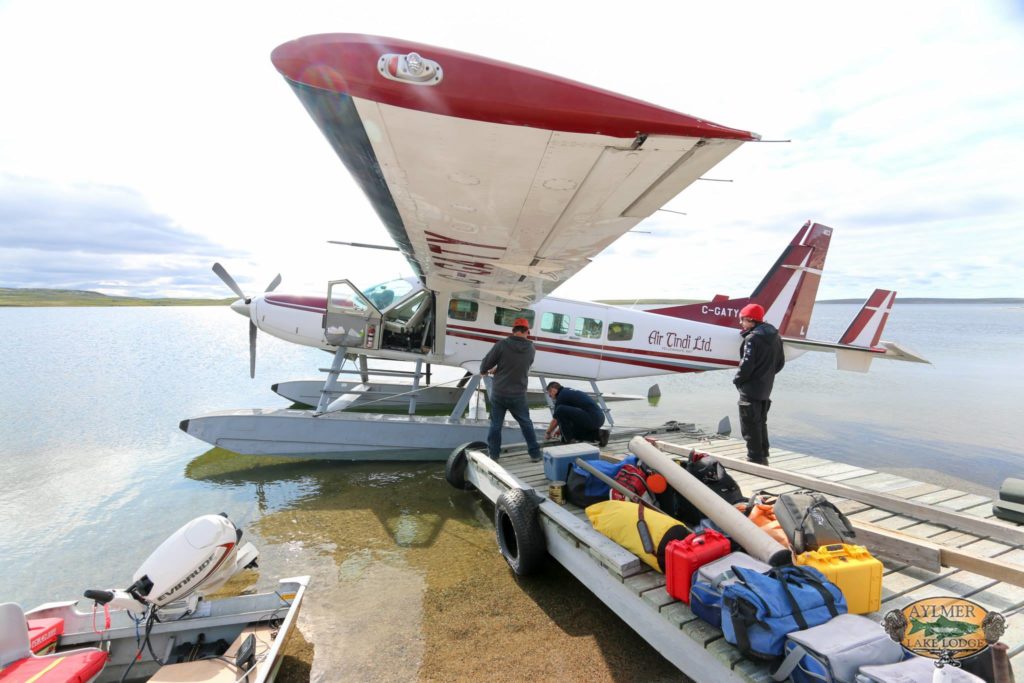 Meet Our Local Wildlife
Your business associates, friends or family will never forget seeing their first arctic peregrine or arctic wolf. There truly is a difference between visiting an animal in the local zoo's and experiencing an animal in its natural habitat. Seeing and discovering each animal and bird in their natural settings allows you to experience their personality in their natural habitat, it is unforgettable.
Aylmer Lake Lodge offers fishing, animal and bird observation,  walks on the tundra, exploring the flora and exploring 1700 square km of water and land by boat. The lakes are full of islands so it's never dull. There's nothing like seeing barren ground animals like Arctic Wolves, Muskox, Cariboo, Arctic Hares, Loons, Peregrine Falcons, Eagles, Ducks and Geese, and many more wandering on the Tundra. Watch and listen to the shrieks of arctic peregrine falcons, the loons calling in the water and the babies running on the water.  Think of the photographs and videos you will take home with you.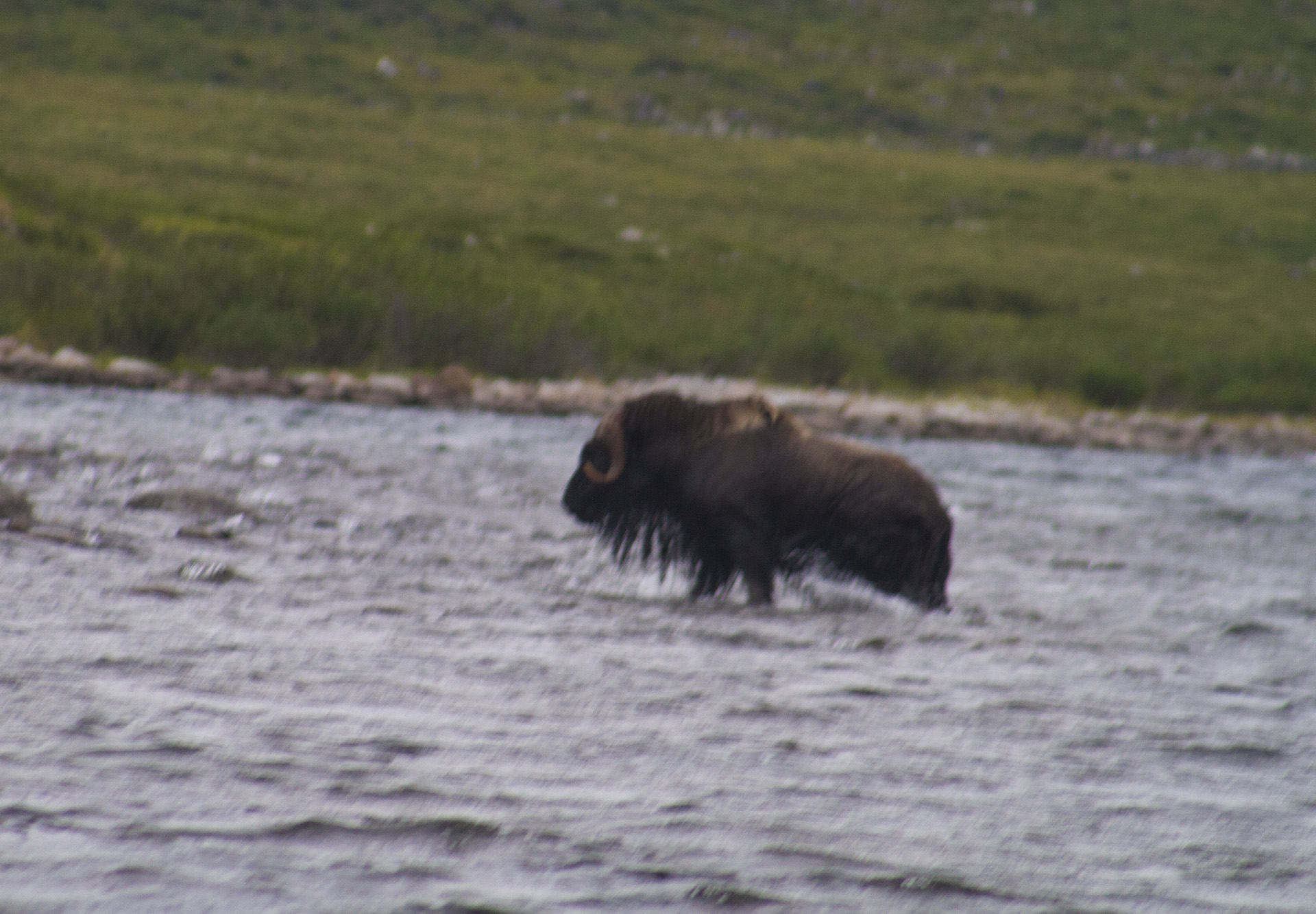 Fun Times To Unwind And Connect
Very comfortable accommodations with mom's home cooked meals to enjoy, yes you will gain a few pounds. Our lodge is a perfect place to unwind, enjoying the lake, and watch and enjoy wildlife from. The lodge is located on top of some of the oldest rock in the world, the lichen in places is 10,000 years old, stay in the comfortable cabins. After a day full of activities, where you can fish from  boats and from the shore, hike, and enjoy a quiet evening playing cards, games, puzzles, socialize or quietly read it makes for a great place for people to come together.
Your day is yours with the activities you choose, heading out for a full day of fun. Enjoying the remote, pristine waterways, tundra, and wildlife that are all part of your day. 
Home cooked style meals on location help keep guests comfortable enjoying the food and beverages, comfortable beds, and solitude or companionship whatever you are needing.
The setting allows you to unplug and relax, no noise, no pollution, no large groups of people. You can visit, read books, walk, fish,  play games, simply enjoy the scenery because it's incredible.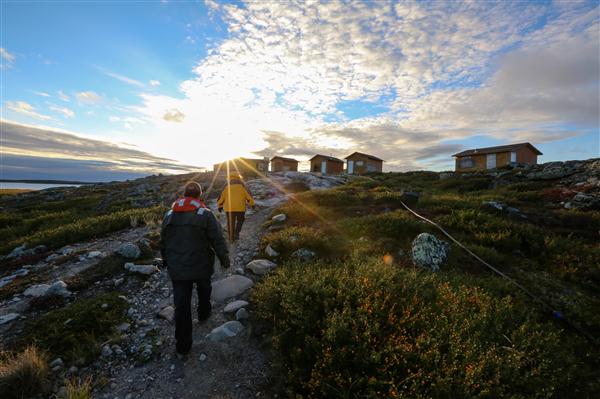 A Trip Far From Any Crowds
We're very excited to have exclusive access to all of Aylmer Lake and Clinton -Colden Lake and the rivers that run in and out of these waters. We are talking 1700 sq km of water with amazing beaches, huge gigantic rock formations, water you can see down into 40-50 feet, huge fish, massive animals, extensive varieties of birds. Your float plane brings you to a premier location that is explored only by our small groups. No other people around.
We bring our guests to the same locations as Ernest Thompson Seton explored in 1907, There's just so much wildlife activity here. Between the Muskox, Cariboo, the barrenground bears, the arctic peregrine, Arctic Hares, Arctic Wolves and the hundreds of Loons and baby loons that run on the water, and the many migrating birds and shore birds, this place is full of life.
Lasting Memories For People To Take Home 
It is way more than just a vacation, it's a life-changing experience. Very few people have experienced the wonder of the Canadian barrenlands landscape. Seeing the tundra a vast region with no trees, the animals and birds that are found often and only on the arctic barrelands will more than fulfill any bucket-list experience. Seeing all our infrastructure and understanding that everything including every piece of lumber had to be flown in. There is only our buildings, and we work to leave a very soft footprint That ensures you are seeing a pristine environment, teaming with fish, animals and birds that migrate through this remote region.
Generally we have two types of clients that look at our trips: those who have never been to the Arctic and those who want to go back. Our guides love what they do and enjoy where they are located at, and they come back year after year because they can't get enough of the Northwest Territories Arctic barrenlands.
The Canadian Northwest Territories barrenlands, are in the Arctic and it is one of the last true wildernesses left to enjoy and explore. Our goal is to help you enter into an area locked into pre historic times, where you can see lichen that is 10,000 years old, rocks that are centuries old in sizes that will amaze you, it is untouched, and it is indescribable, it's a place that must be seen to believe, it is an iconic Canadian location that is the Arctic Barren Lands.
Come Experience The Northwest Territories Barrenlands Arctic With Us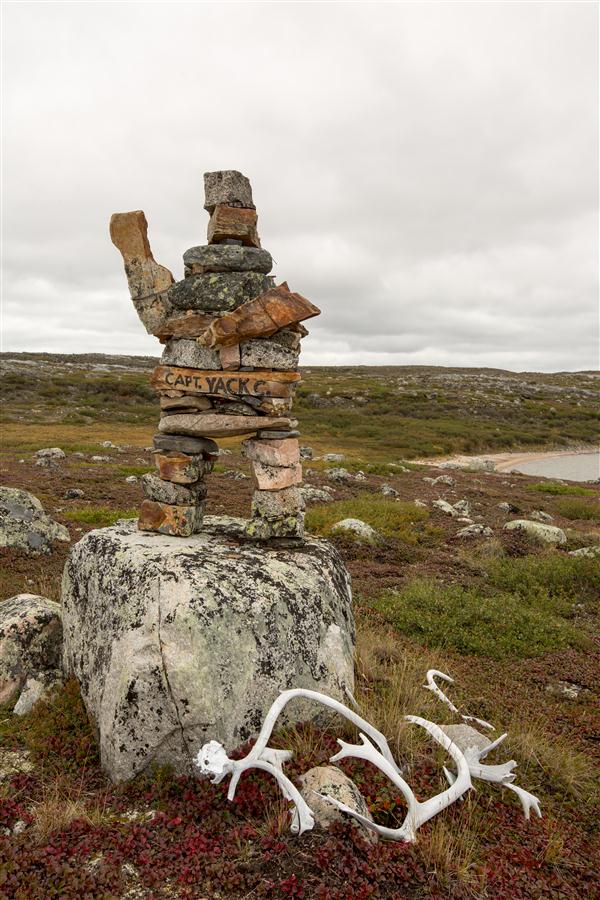 View are trips here.
Book Your adventure.
Are you still curious about all the wonders of the Arctic or looking for more interesting content explore more blogs here!